This is Hedlunda Industri
A lot has happened since 1984. We have expanded and developed in every conceivable way: our factories have become both larger and more numerous, the number of employees is close to 200, large and unique machines and robots handle the heaviest work, and we have gone from carpentry to a pure wood industry.

 

But if we look back to the beginning of our history: In 1984, Hedlunda Snickeri was founded by the first owners Dick Bergh and Lennart Bergdal. The factory looked different, the production was on a smaller scale and we were located in the village Hedlunda which is about 6 kilometers outside of Lycksele's center. The same factory still exists today and is called our southern factory, where we now manufacture components for the furniture used in the northern factory.

 

The business was conducted primarily in our southern factory until the summer of 1996, when we relocated into Lycksele and our northern factory on Verkstadsvägen 10. In the early 2000's, we changed our name from "Hedlunda Snickeri" to "Hedlunda Industri" with the intention to symbolize the company's growth and modernization. During the 2010's, we changed owners, and the most recent change was in 2017 when our current owners took over, with our CEO Jerry Johansson.
Nowadays then? We grow, provide 180+ residents of Lycksele with work and the whole world with quality wooden furniture. Our northern factory on Verkstadsvägen has gradually expanded, as well as our machine park and we have many more wonderful employees than ever before. We now develop and manufacture many of our machines and production lines ourselves to increase our competitiveness in the industry. Our focus is to automate the processes found in our production and develop sustainably for both man and machine in symbiosis.
The first annual volume order in 1984 for one of our wood products was 34,000, and today we manufacture over 60,000 per week. 
We see opportunities in everything: 27 truckloads of wood per week can easily be converted into 4 million finished pieces of wooden furniture per year that are delivered to the entire world - and everything is manufactured here in Lycksele.
Sustainability is a big matter for us. We work continuously with our environmental work and are certified against FSC (Forest Stewardship Council) and their 10 principles regarding e.g. environmental impact, compliance with legislation and principles, and forest exchange.
Quality of our used material is of course central to our business, and the material that is not suitable for our furniture is chipped down and pressed into briquettes that are sold to heating plants to be used in, for example, district heating. This way we get to use and make the most out of the materials we buy, and avoid unnecessary waste.
Our production staff work in various departments and different stations in our factories. In total, our factories are approximately 22,000 square meters in size and within them we have four main production departments as well as the purchasing and unloading departments, the mechanics department and product development.
This department handles all incoming goods, from wood to screw kits used for our products. There are usually around 27 trucks of wood per week that is being unloaded by truck and tractor. The material is verified and placed in its designated area until it enters the production.
Purchasing orders everything we need for our production.
Responsible for this department is Mats Bergh.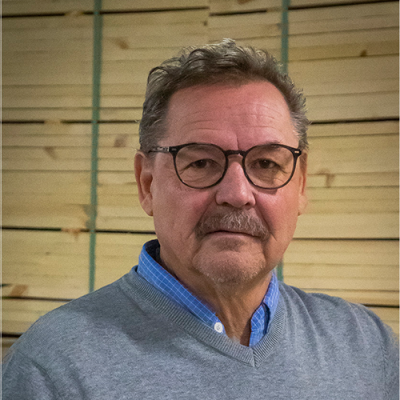 The planer flow is the beginning of Hedlunda Industri's production flow. Markus Eriksson oversees this department.
It begins with the material from purchasing being taken into production via our sword cutter, where sawn timber from sawmills around the country is cut lengthwise to different dimensions to be optimized for a specific article. The material continues on to one of our five planers for machining the surface.
Here, we also have a press line where they make glue joints.
Christian Bengtsson is responsible for the drilling and assembly department. The primary task here is to ensure that the processed material is delivered to the packing line on time.
A major focus area for Christian is to develop the groups regarding the structure of the working methods and improvements in the machine park. He works continuously alongside the other production leaders to develop and spread the competence among all our new employees working in the different departments.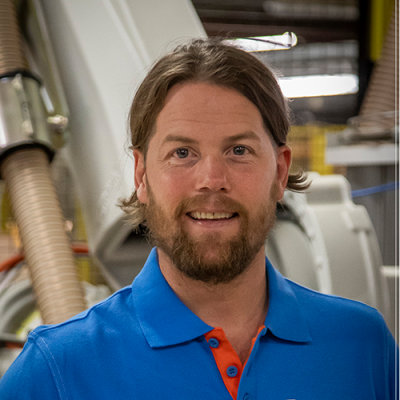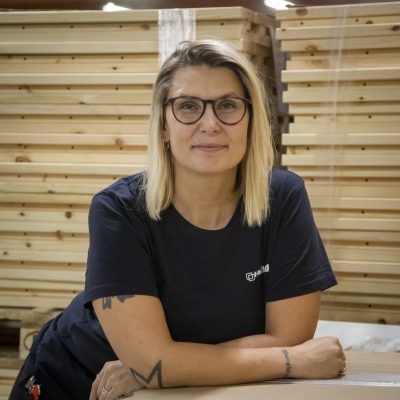 Anja Brännström's department consists of 2 packing lines, one smaller and one larger, as well as some smaller processing machines. The processing machines deliver material to the packing lines.
The packing lines follow a production planning, where the goal is to pack about 1500 beds per shift to meet the orders that come from our largest customer. Here, the employees' knowledge is characterized by quality assessment, truck driving, machine monitoring and cooperation.
Anja's main task is to inform her employees about the production goals and provide the tools and knowledge needed to achieve them in the best possible way.
This department is led by production leader Elin Tossman, and the product manufactured here is a real Hedlunda classic, namely a wooden storage shelf. We started manufacturing parts of the shelf as early as 1985; just one year after the company was founded and have thus been with us since the very beginning.
The production line begins with pre-sawn packages of wood entering a cutting machine, where the material is assessed for quality by the operator, then spliced and planed. After the planer, the shelf posts are drilled to the shelf and finally the processed material ends up on assembly where the ladders are put together.
In our southern factory, we manufacture components for the shelf that are being used in production.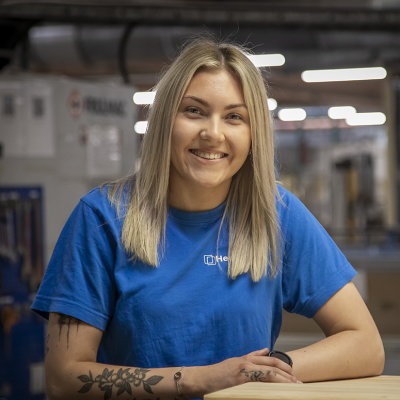 Hedlunda Industri's unloading department loads on an average 7 lorries per weekday all year round. Our products are shipped all over the world, Europe, North and South America, Japan, Australia and China for example. We set high standards as we must ensure that our products arrive with the right quality, the right price and at the right time.
The manager in charge here is Melker Nilsson.
In this department, Andreas Lindström is the manager in charge. Here, a team of maintenance mechanics and industrial electricians work with our state-of-the-art machinery. The work in the department consists of maintenance of industrial machines and robots, as well as mechanical repairs and installations of production equipment.
Our mechanics enable the operation of our industrial machinery by troubleshooting and solving mechanical errors that arise. 
Andreas' role involves coordinating his group and the work in both long-term and short-term mechanical work. He has a high degree of efficiency in our production and works continuously with the improvement and development of processes.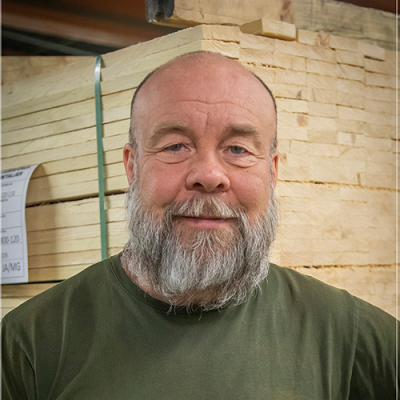 Here we receive inquiries for new products and product changes on existing products. Product development produces samples and suggests changes to the customer that lead to savings on materials or capacity to trim the final price of the product.
Our own new products are developed here.
In this department, products are broken down in detail, both in terms of materials and work steps. The products are prepared in our business system to create the basis for production and purchasing orders, and calculate a sales price.
Manager in charge for the product development is Stefan Algotsson.